Handheld Cordless Electrostatic Sprayer
Protexus Electrostatic Sprayers
Protexus Electrostatic Handheld Sprayers when used with PURTABS Disinfecting Tablets meet the EPA's criteria for use against COVID-19
The electrostatic sprayers in EvaClean's system hold innovative and revolutionary electrostatic spray technology that make sterilizing any environment a breeze. This powerful tool allows the user the ability to attack microbes and decontaminate areas and facilities efficiently and effectively.
The disinfection capability of this handheld sprayer is second to none. With the simple to use point and shoot sprayer and the fundamental advantages of the electrostatic spray, this useful tool can be used in any scenario. From thorough disinfection of a hospital room to a hotel room to a person's own home or gym, this handheld sprayer will get the job done.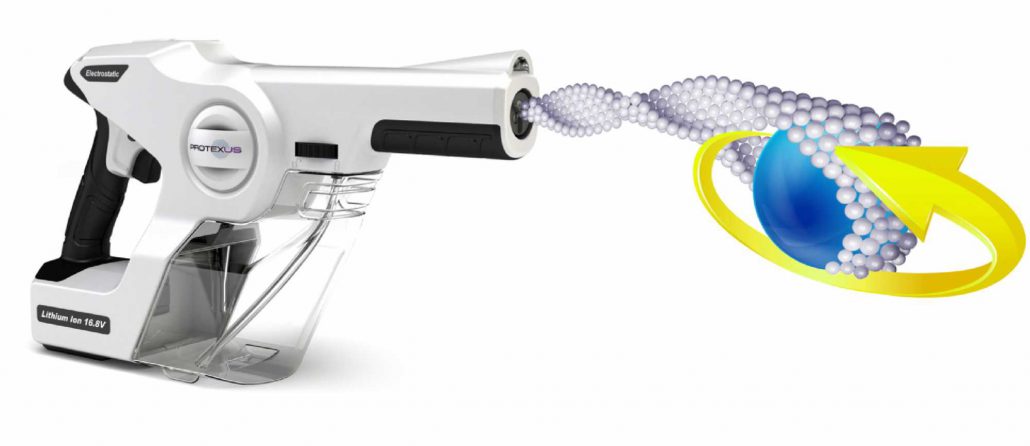 The Protexus Sprayer uses an electrostatic charge that allows the droplets to attract to the surface, rather than float in the air (which is typically associated with a standard mister or fogger). This touchless electrostatic spray "wraps around" surfaces & objects in 360°, providing 3x more coverage in the same amount of time than traditional spray bottles, buckets, and rags.
If you have a dog or a cat at home, think of the amount of hair that seems to always stick to your pants or jackets. That is the effect of static attraction. This sprayer cleaning system uses the same idea only applied to liquid droplets. Where regular vapor droplets float aimlessly through the air, the droplets from the electrostatic spray will cling directly to the object you are aiming at. This high level of efficiency in achieving desired coverage, means there is less time spent refilling the handheld sprayer and also less time in general on using it.